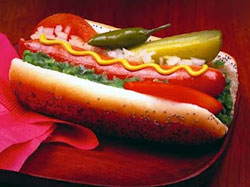 Hot Dogs are also called "frankfurters," "frank," "weenie," "wienie," "wiener,"dog," and "red hot."
Hot Dog Facts
Around 19 billion hotdogs are eaten annually in the United States.
Five hundred and fifty (550) hot dogs are eaten every second of the day in the United States.
During the Fourth of July weekend, Americans will consume 175 million hot dogs.
Hot dogs are served in 94% of homes in the USA.
Children prefer hot dogs (first choice) to hamburgers (second choice) and ice-cream.
The average hot dog is consumed in 6.1 bites. (average sized mouth tested)
Mustard remains the most popular hot dog topping - 88% of hot dog eaters use mustard.

Children prefer ketchup to mustard as their favorite hot dog topping.
Hot dog consumption is uniform throughout various income levels.
Southerners eat the largest portion of hot dogs.

NASA has approved hot dogs as a regular item on Apollo moon flights, Skylab missions and space shuttle flights.

The world's biggest hot dog was 1,996 feet long, created by Sara Lee Corp. in honor of the 1996 Olympics. A 2,377-foot chicken dog was made in 1985 by Maple Lodge Farms in Norval, Canada.
Marlene Dietrich said that her favorite meal was hot dogs & champagne.
Babe Ruth once ate 12 hot dogs & 8 bottles of soda between games of a double header. He was reportedly rushed to the hospital after the game with a severe case of indigestion.
Al Capone's favourite food was Nathan's Coney Island hot dogs, as was Cary Grant's.
On July 4, 1916 four Irish immigrants held a hot dog eating contest to decide which of them was the most patriotic. The winner, James Mullen, at 13 dogs & buns in 12 minutes.
President Franklin Roosevelt served King George VI of England hot dogs & beer during a White House visit in 1939. Mrs. Jimmy Carter served hot dogs at a White House picnic in 1977. Queen Elizabeth II served hot dogs at a royal banquet held for the American Bar Association.
During the war, soldiers were fed the dreaded K-rations which often consisted of beans, corned beef, or hot dogs. To make the hot dogs seem a little bit more appetizing, the mess staff referred to them as steaks in a tube, or Tube Steaks.
7-Eleven sells close to 100 million fresh-grilled hot dogs every year, more than any other retailer in America.
Top 10 Hot Dog Baseball Stadiums for 2005
1. Dodger Stadium – 1,674,400
2. Coors Field – 1,545,000
3. Wrigley Field – 1,543,500
4. Yankees Stadium – 1,365,000
5. Minute Maid Park – 1,248,000
6. Edison Field – 1,133,000
7. HHH Metrodome – 850,000
8. Citizens Bank Park – 800,000
9. Shea Stadium – 745,000
10. U.S. Cellular Field – 495,000
Hot dog buns and garnishing differ from place to place.

Chicago Dogs - this type of hot dog is served on a poppy seed bun and is garnished with yellow mustard, dark green relish, chopped raw onions, tomato slices and celery salt.

Kansas City Dogs - these are served with sauerkraut and melted Swiss cheese on a sesame seed bun.

New York City Dogs - these contain steamed onions and pale yellow mustard.

Coney Island Dogs - created by the Original Coney Island company5, this type of dog comes topped with a spicy meat mixture.

Southern Slaw Dogs - these are probably the only ones served with coleslaw.

Corn Dogs - these are placed on a stick, dipped in corn bread batter and deep-fried.

Tex-Mex Dogs - these are topped with salsa, Monterey Jack cheese and chopped jalapeno peppers.

Pigs in a Blanket - these come wrapped in pastry and are baked. More commonly known as plain sausage buns.

Baltimore Frizzled - split and deep-fried.

Lilies/Lilliputians - these cocktail-sized sausages are usually served as an appetizer, and come with a sauce.
WARNING - don't play this clip unless you want to be humming the tune all day!
WARNING - don't play this clip unless you want to be humming the tune all day!
Hot Dog Etiquette
The Dos and Don't s of Hot Dog Dining
Do...

Serve sesame seed, poppy seed and plain buns with hot dogs. Sun-dried tomato buns or basil buns are considered gauche with franks.
Eat hot dogs on buns with your hands. Utensils should not touch hot dogs on buns.
Use paper plates to serve hot dogs. Every day dishes are acceptable; china is a no-no.
Condiments remaining on the fingers after eating a hot dog should be licked away, not washed.
Use multicolored toothpicks to serve cocktail wieners. Cocktail forks are in poor taste.


Don't...

Put hot dog toppings between the hot dog and the bun. Always "dress the dog," not the bun.
Use a cloth napkin to wipe your mouth when eating a hot dog. Paper is always preferable.
Take more than five bites to finish a hot dog. For foot-long wiener, seven bites are acceptable.
Leave bits of bun on your plate. Eat it all.
Use fresh herbs on the same plate with hot dogs. It over does the presentation.
Use ketchup on your hot dog after the age of 18.Mustard, relish, onions, cheese and chili are acceptable.
Send a thank you note following a hot dog barbecue. It would not be in keeping with the unpretentious nature of hot dogs.
Bring wine to a hot dog barbecue. Beer, soda, lemonade and iced tea are preferable.
Ever think there is a wrong time to serve hot dogs.
A short history of the Hot Dog
9th Century B.C. - Sausage is one of the oldest forms of processed food, having been mentioned in the novel Homer's Odyssey.
15th Century - In 1484 the frankfurter was developed in Frankfurt, Germany.
19th Century - A master sausage maker made his first "wiener" in Vienna (Wien), Austria. He called his sausage the "wiener-frankfurter." The "wiener" comes from Wien (the German name of Vienna) and "wurst" means sausage in German.
Who first served the first hot dog!
Wieners and frankfurters don't become hot dogs until someone puts them in a roll or a bun. There are several stories as to how that first happened.
1860s Theory 1 -German immigrants sold them, along with milk rolls and sauerkraut, from a push cart in New York City's Bowery during the 1860s.
1880 Theory 2 - A German peddler, named Antonoine Feuchtwanger, sold hot sausages in the streets of St. Louis, Missouri. He would supply white gloves with each purchase so that his customers would not burn their hands while eating the sausage. Customers kept taking the gloves and walking off with them. He reportedly asked his brother-in-law, a baker, for help. The baker improvised long soft rolls that fit the meat, thus inventing the hot dog bun. When he did that, the hot dog was born. He called them "red hots."
1893 Theory 3 - In Chicago, the Columbian Exposition brought hordes of visitors who consumed large quantities of sausage sold by vendors. People liked this food that was easy to eat, convenient, and inexpensive. In the same year, sausages became the standard fare at baseball parks. This tradition was begun by a St. Louis bar owner, Chris Von de Ahe, who also owned the St. Louis Browns major league baseball team.
1900 Theory 4 - Charles Feltman, a German butcher, opened up the first Coney Island hot dog stand in Brooklyn, New York. He installed a small charcoal stove in his pushcard, boiled the sausages in a kettle, and advertised them as "frankfurter sandwiches." He sold 3,684 sausages in a roll during his first year in business. He is also credited with the idea of the warm bun. The hard-working Feltman built a mini-empire with a hotel, beer gardens, restaurants, food stands, and various rides to amuse his customers. At his death in 1910, he left a business worth over one million dollars which all started with selling hot dogs.
1916 - An employee of Charles Feltman, Nathan Handwerker, broke away from Feltman in 1916 and, with his wife Ida, started Nathan's Famous, Inc., which now calls itself the world's greatest hot dog purveyor. He opened his stand in Coney Island near the corner of Surf and Stillwell Avenues and called it "Nathan's."
1902 Theory 5 - Another story is that the term "hog dog" was coined in 1902 during a Giants baseball game at the New York Polo rounds. Vendors were hawking hot dogs and yelling "They're red hot! Get your dachshund sausages while they're red hot!" In the press box, sports cartoonist, T.A. (Tad) Dorgan, a Hearst newspaper cartoonist, was nearing his deadline and desperate for an idea. Hearing the vendors, he hastily drew a cartoon of barking dachshund sausages nestled warmly in rolls. However, his spelling was fairly poor, a problem he solved by simply writing 'hot dogs'! Although historians generally credit him with the name, the supposed cartoon has never been found.
1942 - Corn dogs, hot dogs in a fried cornmeal batter, were introduced at the Texas State Fair, created by Texan Neil Fletcher.
Sources:
http://www.answers.com/topic/hot-dog
http://h2g2.com/dna/h2g2/A1021834
http://www.hot-dog.org/ht/d/sp/i/38570/pid/38570