Washable Finger Paint
Materials needed: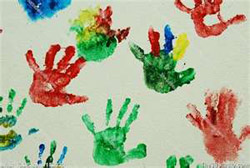 1 cup All-PurposeFlour
1 cup Cold Water
3 cups Cold Water
Food Coloring

Instructions:

In large saucepan mix the flour with the 1 cup cold water. Stir until smooth. Then add the 3 cups cold water. Cook over medium heat, stirring till mixture thickens and bubbles. Reduce heat and simmer 1 minute more while still stirring.  Divide into three heat-resistant bowls. Tint  with food coloring. Cover and cool.
{googleAds}
{/googleAds}